Roy's Boler Blog




Fiberglass Trailer Hats

"Arriving home a diamond in the rough"
| | |
| --- | --- |
| | New trailer embrodiered shirts! |
A friend who is an amazing quilter sent me a gift that makes me smile everytime I see it.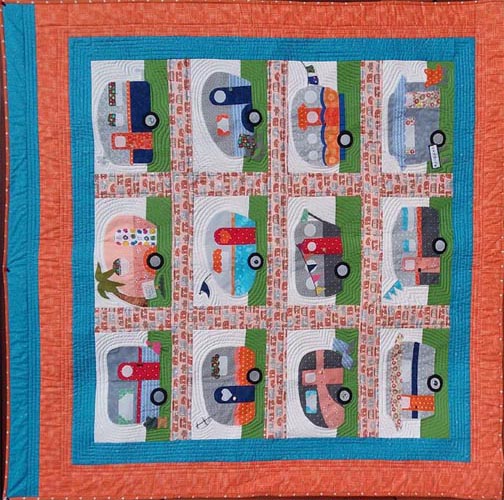 It has been years since I have been able to get out in my trailer and blog. (Was taking time off to care for my elders, one made it 104!)
While I was off the road the Kincade fire hit and melted the back of my trailer. But our home was saved so am truly grateful since so many did not make it. But I am hopeful I wil be able to pop out the plexiglass window and the fiberglass will pop back into shape? But I plan on restoring her again somehow. Look forward to getting back on the road again.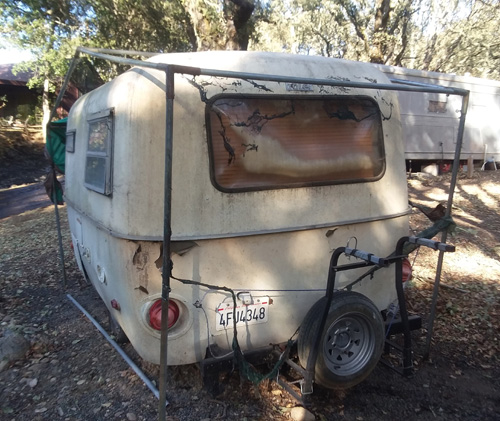 Boler\fiberglass RV links

Hard to belive it has been 5 years since I have posted! Been off the road caring for my folks. Never got to use the Spartan as Dorothy needs full time care and had to move into the house. Amazing she is 102 now!
Got the Spartan about 90% done. Hope to make it a guest house someday.
Still no trips this year but have shifted my restoration efforts to a 1955 Spartan Mansion, one of those silver beauties made by Getty after the war in his airplane factories). She is 33 ft long and needs a total restoration. The birch panneling had too much water damage and wear. I wanted a place to call my own while caring for the folks and this just made sense.

Still getting orders for the trailer hat and shirts. Might add a Spartan down the road.....
Got a phone call today from someone wondering if I still make the hats and shirts today. It has been years since I posted but the good news is I got the Boler restored. But the only time I get to use it is my annual trip to the Black Rock desert. Otherwise I am home caring for a wonderful 96 year old elder. But look forward to hitting the roads with the Boler in the future. In the mean time I do make hats and shirts for people when they are ordered.
It has been a long time since I have posted but want to get back to my Boler so thought about the blog. I am getting her ready to go back to Burningman the end of the month. I have added another solar panel. The 65 watt panel on the roof just wan't enough to run the fridge for more than a couple of days without taking the batteries too low or running a generator. I added a 120 watt panel to the system and ws able to go a week in the desert and not need a generator so think I have enought power now. I have removed the original panel from the roof and will mount it on the roof rack of my tug next to the new panel so I can park the trailer in the shade ( or under my shade structure) and keep the panels in the sun. Also got a new solar charge controller with a meter mounted on the side of the cabinet above the light switches to keep a better eye on things as they happen. It gives current charge rate in amps, and amp hours since last reset & battery condition, current voltage level and high and low voltage since last reset. and temperature info too.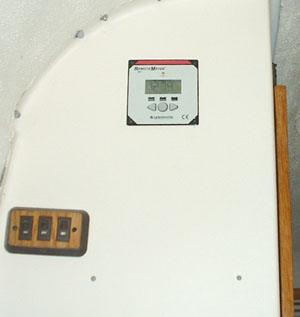 I do need to reapir the original roof vent the the previous owner ruined with he added the panel over it. He took off the top and the crank mechanism but left the 4 sides goin up and they look like they are not damaged. I will post on the web sight looking for one of the original vents thinking someone might have one laying around after installing a fantastic fan vent or something... If none to be found I will have to cut out the old one and install one of the new plastic ones. ( the lid of those will not fit my four sides).

I forgot to post after getting my Boler back from the friend I loaned it too (last post)
Unfortunatly as he was backing it out of his drive way he ripped off the small window above the stove...... No good deed goes unpunished. He took it to an RV place that put it back but there are dents that show so some day I will look for a good old one and replace it! It still works but after all the work I did to ge her in shape I want to put a good window back in there.
A friend is remodeling his home and needed a warm dry place to sleep while the roof is off so the boler is temporary housing for a while. He is about 6'2' tall so might have curl up a little in bed but bet it beats the tent he was going to use when the rains start...

(I am a little nervous about it being on a narrow street but he promises to move it off the street into the driveway as soon as possible :-))

Since he would have shore power I hooked up the adaptor that came with the fridge that runs it at 24 volts when there is 120 volts available. It had an additional connect that provides 5 amps of 12 volt power so I hooked that up to the 12 volt system of the trailer so every thing runs off shore power when available now.
Made it back to Burning Man again this year. Last year the batteries started running low so bought 2 new ones (the ones that came with the trailer when I purchased it were 7 years old...) got 2 new Interstate golf cart deep cycle batteries (6-volt) and connected them in series for my 12 volt system. They are rated at 220 amp hours which means I could use about 100 before going too far... the aolar pannel can generate me about 40 amp hrs a day and I figure that the fridge uses almost that much. I didn't want to have to conserve on lights, computer etc. So had to make a choice between adding another pannel or generator. Found a small generator at Kragen auto for $179 that made more $ense. Ran it about 30 minutes a few days and that kept thing in great shape the whole week.

My buddy Rob joined me this year so I removed upper bunk (back of the couch) to give him a bit more comfort for sleeping. Met great people, saw amazing art.... and had a dust free place to sleep.... doesn't get any better.





<4:30 & Guess before
the neighbors arrived

Rob & Roy
end of a great week>
Took a trip up to the California Redwoods where I met friends for a long weekend.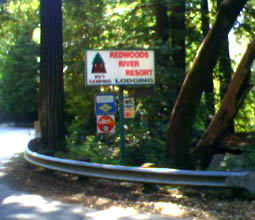 <Finally tackled the mess of a electrical system before hitting the road.


Installed new LED tail lights - the old sockets were corroded so replaced them too. These modules fit right in the regular socket and act as running, brake and turn lights.>

www.ledtrailerlights.com

Then installed a new style fuse box inside the door under the front bunks. New fused lines to each major 12 volt application, fridge, lights, cd/radio and sockets for computer,etc. (still have to re-wire the lights)
| | | | |
| --- | --- | --- | --- |
| Latest changes 05-15-2006 | | | |
Been a while since I posted. I missed the Oregon gathering this year. But did find time to find the fabric for the upholstery!


But now have to find time to do it.
Guess it will get added to the growing list along with the new solar charge controller.....
| | | | |
| --- | --- | --- | --- |
| Latest changes 02-15-2006 | | | |
I joined the Casita gathering at DeRose winery last weekend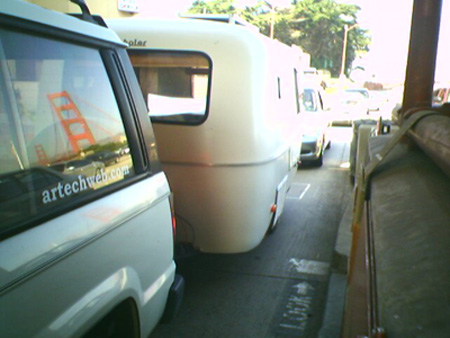 This is a photo taken by the toll taker at the Golden Gate bridge on the way there.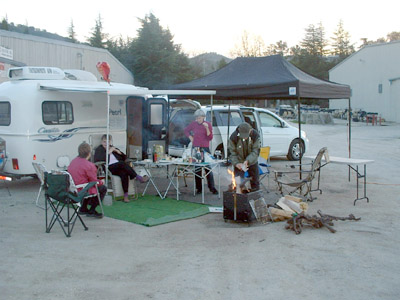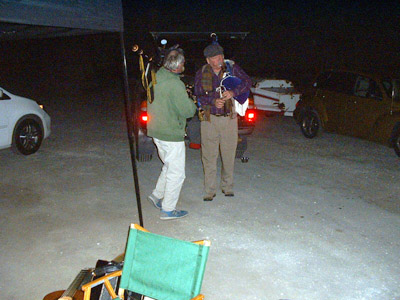 Nancy started us off with a toast....... and the bag pipers ended that evenings entertainment!
Good food, good wine and now so new good friends....
Great weekend
| | | | |
| --- | --- | --- | --- |
| Latest changes 01-26-2006 | | | |

A small update
Now that the rains have stopped I checked inside to check for leaks... Only one small one at the lower corner of the small window over the stove..... I had removed the old weathered caulk when I re-gelcoated and not gotten back to re-caluk it.... So a little caulk should fix that right up.

Another thing that needed attention was the nre Tundra fridge. I noticed at Burning man that it was pulling more power that I thought it should (batteries were dropping by the end of the week and I wasn't using much power for other things) When I got home I tested the draw and it was pulling over 5.5 amps ehrn running. I bought it because it was rated at 3.3 amps so called Tundra support and they wre great! They actually sent out at their expense another fridge that
actually used the rated 3.3 amps...
I call that Great customer service!
I have designed a cap for Boler lovers....
| | |
| --- | --- |
| | Low profile khaki cotton cap with back trim in the brim and Boler logo on the front. $14.50us |
and one for the Scamp owners!



Low profile khaki cotton cap with back trim in the brim and Scamp logo on the front. $14.50us
And since they have asked, here's one for the Burro owners too!

Since there are detail differences I have created a cap for Burro owners too.

Low profile khaki cotton cap with back trim in the brim and Burro logo on the front. $14.50us

New trailer shirts

Choose your trailers logo ( like the hats above) for this 100% cotton denim, garment washed, long sleeve shirt. Great for summer this light weight (6.50oz) denim shirt has a tuck in tail,button down collar, horn tone buttons, patch pocket and button throught sleeve plackets. available in sizes S-XXL $29.50

707 433-8213